Watchkeeper – Modern Countdown Percussion
The most complete collection of percussion and clockwork samples for creating rhythmic and mechanical sounds across all genres is Watchkeeper. Keepforest developed an engine that offers you a variety of options and parameters for fast and easily producing astounding rhythmic patterns. The Watchkeeper's major objective is to provide users with a contemporary set of sound design tools right out of the box, avoiding the need for third-party plugins and maintaining a straightforward, uncluttered user interface.
When building complex synth patches or trailer rhythms from scratch, sound designers and composers frequently turn to the Watchkeeper instrument. It allows them to work with percussion, clock, and mechanism parts to create unique sounds. It fully eliminates the need to look elsewhere for rhythm loops or percussion one-shots due to its enormous collection of sounds and rhythm patterns.
Watchkeeper's library is structured and organized clearly and intuitively, so your work can finally be fast and efficient. Within each folder you will find a handy set of patches, ranging from the basic ones to the complex layered sounds, covering all possible genres.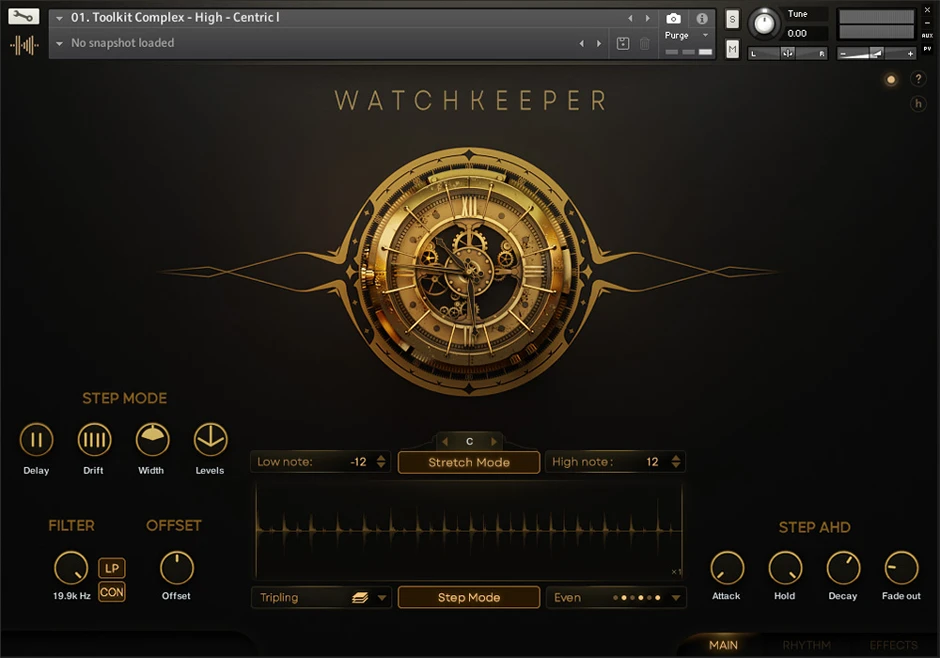 Watchkeeper offers several resources to composers and sound designers:
Benefits for media composers
700+ NI Kontakt Patches – Includes perfectly crafted DESIGNED patches as well as RAW patches of original recordings for the vast amount of abilities to use it.
300+ NI Kontakt Multi-Patches / 170+ Sound Design Patches – Stand-out Full Stem Composition Generators with a diverse selection, exceptional quality and innovative sound.
2000+ Snapshots / 2000+ Tones – That allows for quickly achieving high-quality sound transformations for various sound-design purposes.
3100+ Custom rhythm presets – With wide range of options available to bring your creative ideas to life, allowing you to customize and personalize your project with unique and dynamic sounds.
FX Custom presets and 240+ FX Chains – Created to ignite your creativity and boost up your creative process, providing endless possibilities to explore and create your own signature sound.
1300+ Loops and 800+ Oneshots – Mastered and ready to drag-n-drop use in your projects to fill gaps and obtain missing elements for your masterpiece.
Stem Loops – over 2000 loops that have been carefully categorized for easy access, making it simple to find the perfect loop for your project.
Stems – 170 Stem Folders from Artist Multipatches organized by genres and styles to make it easier to use.
WAV Folder – 6100 Mastered Audio Files
Loops and Created Patches contain up to 32 Round Robins. As a result, the sound produced is incredibly dynamic and lifelike, capturing the subtle variations that occur in real-world performances. Custom algorithm for creating an endless variety of new rhythms in epic, hybrid, organic, and modern styles and many more.
With uncompressed 40GB Watchkeeper, you'll experience the ultimate in creative freedom, unlock new possibilities, achieve what was once deemed impossible and elevate your work to new heights.
Benefits for sound designers
User sample import – feature allows for loading any type of sound and instantly integrating it to the correct rhythmic grid for proper use in rhythms and for dividing any sounds for granular sound design.
Users export and import MIDI files in two clicks, making it easy to work with rhythms and sequences in any DAWs.
Easy-to-use yet powerful layering system and different loop playback modes boast improved efficiency and are less taking on the CPU and memory, allowing for smoother operation and faster workflow.
The addition of a user-friendly yet powerful layering system and various loop playback options, including developed playback mods, provides users with a wealth of creative possibilities.
This feature allows to layer sounds or audio tracks on top of each other easily to create a more complex and dynamic audio experience
Advanced sequencer and probability options enable you to quickly generate new ideas and experiment with unique sound.
Whether you're a professional or a hobbyist, Watchkeeper is the perfect choice for achieving the results you desire. Transform your tracks with fresh tones, rhythmic patterns, and intricate details of time.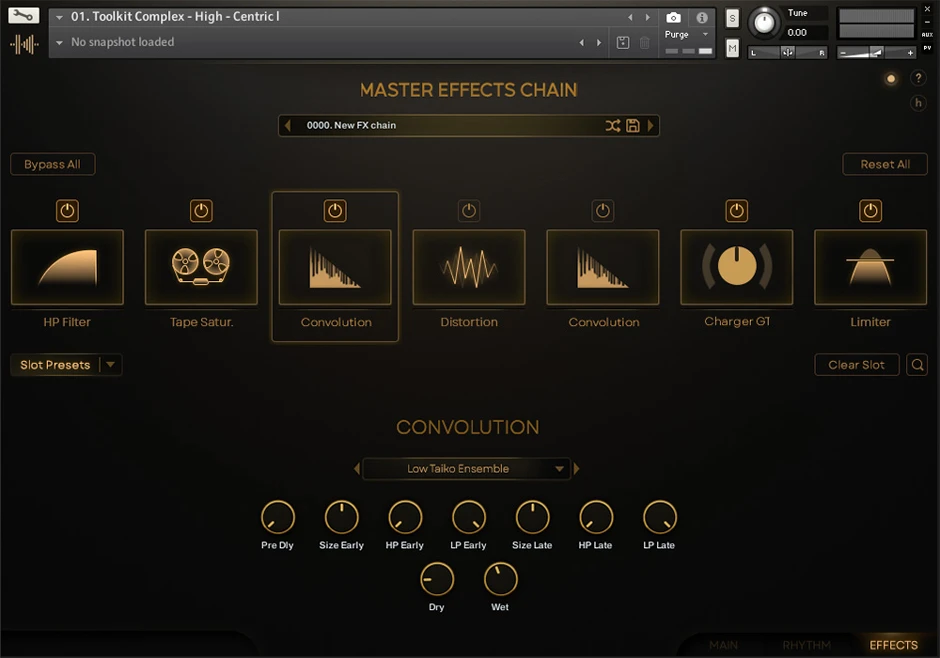 Features
700+ NI Kontakt Patches
300+ NI Kontakt Multi-Patches
2000+ Snapshots / 2000+ Tones
3100+ Custom rhythm presets
FX Custom presets and 240+ FX Chains
1300+ Loops and 800+ Oneshots
WAV Folder – 6100 Mastered Audio Files
170 Stem Folders
2000+ Stem Loops