"A great active rock drum sound…that works awesomely for metal, too."
GetGood Drums Modern & Massive is custom-cut for today's modern rock and metal producers. Thick, aggressive, punchy, and full of realism, all drums in this library are precision tuned and recorded for real-world production results. Inside you'll find nine snares, six kick drums, 14 toms, and two sets of cymbals, all ready to go to work for your music.
"Recorded in my favorite drum room in the whole world"
When it comes to drum sounds, room tone is everything. GetGood Drums Modern & Massive was recorded at Middle Farm Studios in the UK, whose drum room Nolly describes as having "the most incredible explosive ambience." Dialing up the room and overhead mics give Modern & Massive's kits Zeppelin-scale chunk and resonance, which you can tailor to song and taste.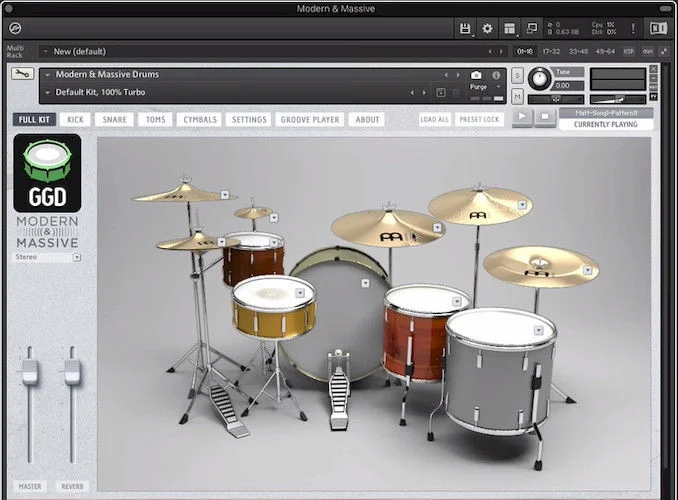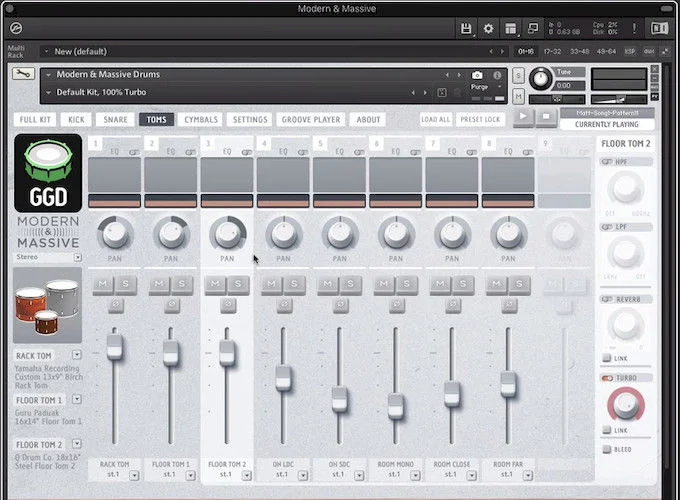 Improved interface
GetGood Drums Modern & Massives sees an improved GUI that is intuitive and packed with player potential. Full Kit view helps users visualize what's being played and makes it easy to audition drums from one tab. Clicking over into each tab (Kick, Snare, Toms, and Cymbals) lets users adjust the balance and shape of each instrument, with individual faders for close mics, near and far room mics, and large- and small-diaphragm condenser overheads.
GetGood Drums gives you totally tweakable drum tones
Whether you prefer your drums processed or in the raw, GetGood Drums Modern & Massive is built for you. Close mics and kit tops are gently kissed with just enough EQ and compression to keep levels happy. A feature Sweetwater loves is the one-knob Turbo control on each instrument, a 0–100 continuous control which lets you dial in just how "final" you want your drums to sound. It's the best of both worlds. Where you take your productions with GetGood Drums Modern & Massive is entirely in your hands.
GetGood Drums Modern & Massive Features:
Huge drum sounds for contemporary rock and metal
Contains 9 snares, 6 kick drums, 14 toms choices, and 2 sets of cymbals
Obsessively engineered at Middle Farm Studios in the UK
Cleanly and cohesively recorded
Drums are minimally processed to give you full creative control
One-knob Turbo control delivers a radio-ready drum sound
Punch up acoustic drums, trigger electronics, or build parts from scratch via MIDI
Streamlined GUI separates kick, snare, toms, and cymbals by tab
Blend close and far mics for each drum to discover the right vibe for your tracks
Free Kontakt Player software required