Zero-G Kitchenology – Domestic Percussion Machine
An incredible useful and fun, percussive Kontakt instrument using sounds from the kitchen!
Zero-G KITCHENOLOGY is an incredible useful and fun, percussive Kontakt instrument that can also be used for sound design and special fx as well as composition. It enables the user to create unique sounds using unusual sources, midi grooves, and IR samples. KITCHENOLOGY was created by recording the amazing multi-instrumentalist Charlie Dalin playing 48 different kitchen items with 12 round robins for each sample. Some of the recorded items such as cups and glasses can be played over a musical octave.

KITCHENOLOGY contains 4 busses each with 12 individual instruments to give a total of 48 kitchen instruments/utensils all recorded in high definition 48KHz 24bit audio.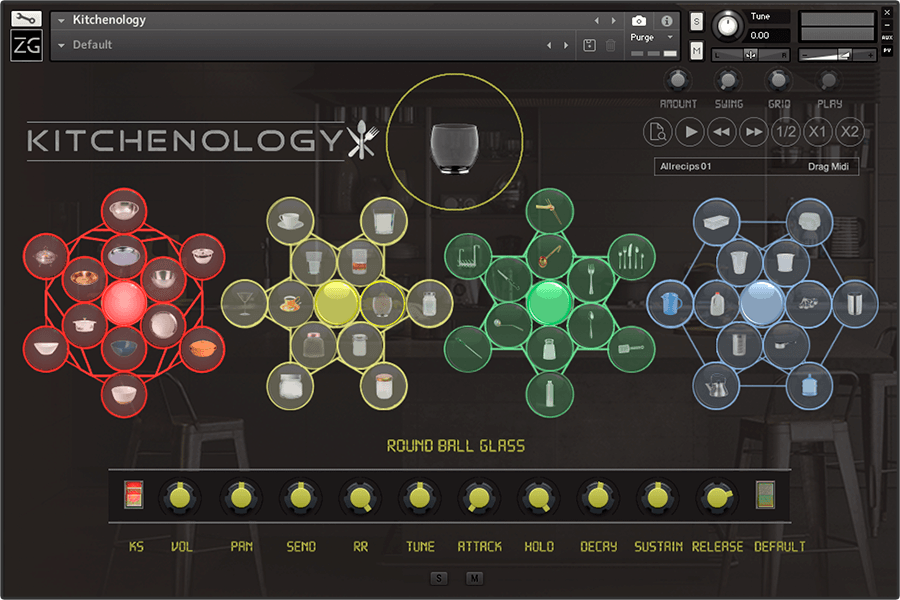 There are also 114 separate convolution reverbs which when used on each instrument bus can create a myriad of even more unique sounds. Some samples were recorded with different additions such as adding cloth to a bowl to get a kick drum sound and to make the library as usable and percussive as possible. Additional available editable parameters enable endless sound creation possibilities.

KITCHENOLOGY also includes a huge selection of MIDI grooves covering different styles, tempos, and time signatures as well as 34 mix snapshots. Whether your project is a traditional song, cinematic music, or sound effect creation, you will find KITCHENOLOGY fits the part perfectly!
FEATURES:

Custom Kontakt Interface.
Over seven thousand individual 48KHz, 24-bit compressed samples.
48 instruments on 4 FX Busses.
34 Mix Snapshots included.
Volume, Pan, Reverb Send, Round Robins, Tune, AHDSR, mute, solo, for each instrument.
Master Convolution Reverb on each bus with 114 room impulses.
250 MIDI grooves.
Key switch mode.
Drag and drop MIDI to DAW.
Swing and quantize functions with double and half speed synced to host tempo.
12 controlled round robins.
Automatic Dynamic Velocity.
Automatic Midi mode when used inside DAW.

SAMPLED INSTRUMENTS:
2 steel bowls, chinese basin, metal plate, metal pot, copper plate, enamel pot, metal tray, glass salad bowl, clay salad bowl, clay pot, yoghurt pot, 5 Jars, 5 water glasses, teacup, coffee cup, chopsticks, hook, copper ladle, silver ladle, cutlery, knife, fork, spoon, knife sharpener, salt shaker, grater, steel bottle, 2 Plastic containers, 2 plastic cups, 3 plastic jugs, measuring cups, steel cup, metal can, steel pot and kettle.
About Charlie Dalin
Charlie Dalin was born and raised in Cameroon and graduated from L'Institut Supérieur des Techniques du Son in Paris as a sound engineer.
Charlie Dalin is an accomplished percussionist, drummer, guitarist, whistler, and multi-instrumentalist composer. He has worked as a stage and studio musician as well as playing and composing for video games, film, dance, and soundbank creation.
He has worked with Olivier Deriviere, Vladiswar Nadishana, Aliashka, Nicolas Bras, Ann-Estelle Medouze, Kesiena, Stefano Maccarelli, Fayez Saidawi amongst many others.