Incredibly realistic percussive Kontakt instrument of Batucada and Samba instruments
KADA is an incredibly realistic percussion library of Batucada and Samba instruments with an easy-to-use Kontakt interface.
There are over 1150 48KHz 24bit samples included with the library. Every sample has been carefully crafted to maintain the life and realism of each instrument.
Samba is the spirit and rhythm of life in Brazil. The main idea behind KADA is to recreate this spirit in an authentic listening experience, as if the ten musicians from a traditional samba band were playing a carnival in your studio. We have done this by giving every sound 8 velocity layers each containing 8 round robin repetitions. This creates an amazingly real reproduction of a live carnival band with all its energy and emotion.
The custom Kontakt interface is very easy to use. There are 8 channels, for each separate percussion instrument: Surdo, Snare, Repinique, Agogo etc. Each channel has an individual volume fader, pan, solo and mute control. There are also EQ, Transient Master, Compression and Tape Saturation effects for each channel so you can tailor the sounds to your liking.
Each instrument is mapped to at least 2 keys with different samples on each key for ultra-realistic and highly nuanced results.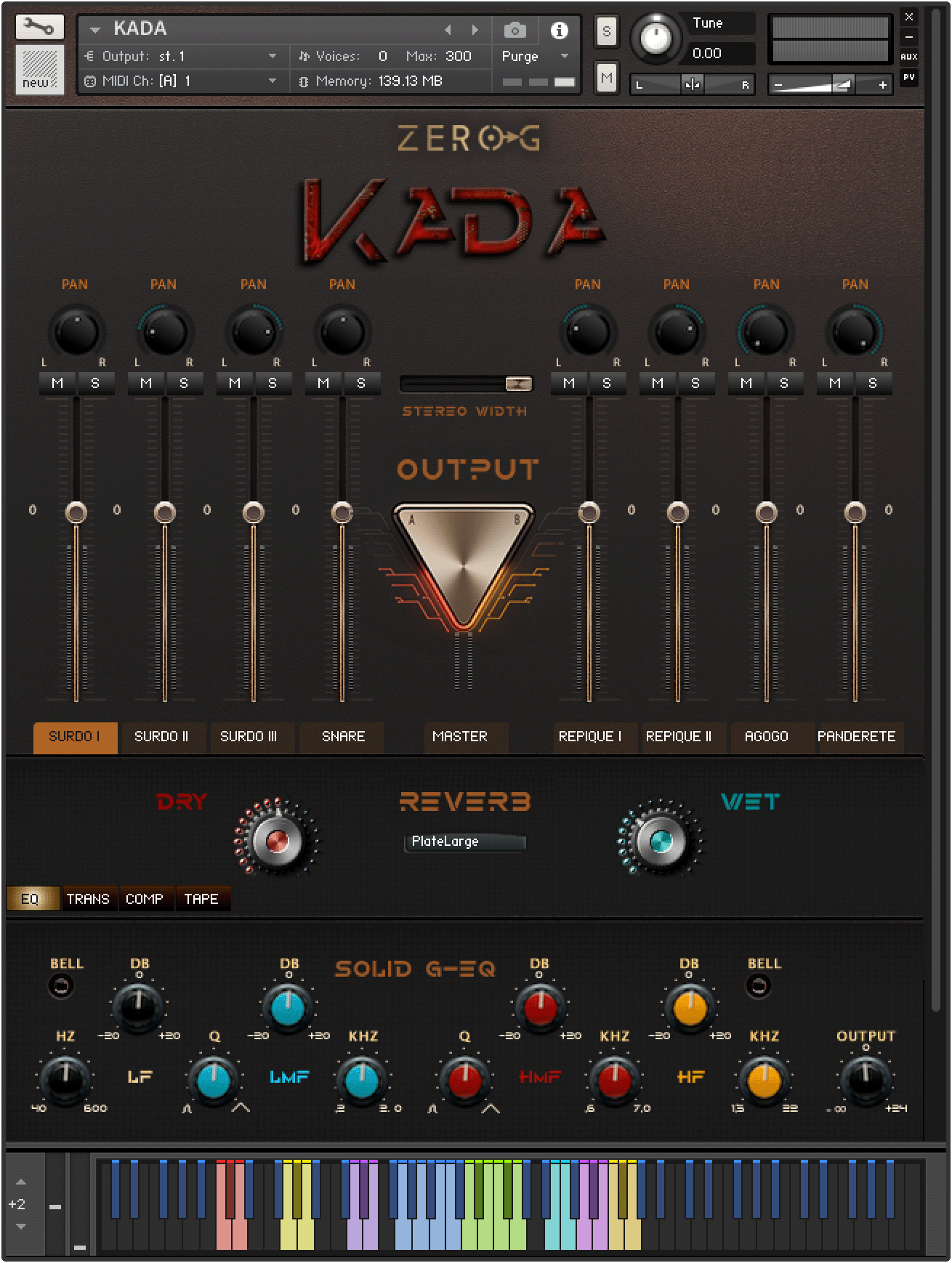 The interface also comes with a Stereo Width Control and a Master Convolution Reverb with 16 room impulses.
KADA is all that you will need to create your own vibrant, racy, sun-drenched samba rhythms!
Please note: KADA does not include any premade rhythms and is percussion library only. For our tutorial video we downloaded a selection of Samba MIDI files from Free MIDIS 101.
Features:
– Over 1150 samples in 48KHz, 24-bit
– 8 Channel Mixer
– Volume, Pan, Mute, Solo, Attack and Sustain controls for each instrument. • Master Convolution Reverb with 16 room impulses.
– Stereo Width Control
– 8 Velocity Layers for each instrument
– 8 Controlled round robins.
– EQ, Compression and Tape Saturation for each channel
– Automatic Dynamic Velocity