Hybrid Ochestral Elements for modern scoring
Symphonic Destruction is Heavyocity's sonic deconstruction of the orchestra – rebuilding it from the ground up to push the bounds of power, creativity, and aggression in modern scoring. Applying the epic approach of Damage 2 to orchestral sound, Heavyocity has developed a collection of visceral hybrid elements – from Full Orchestra Portatos saturated with analog gear to Herrmann-esque detuned staccatos to the deepest, darkest soundscapes you've ever heard.
With over 230 snapshots, 440 unique sources, and thousands of effected and processed samples captured at some of the world's premier sound stages, Symphonic Destruction is a vast collection of innovative playable instruments and hybrid designers. Add in 144 tempo-synced motif loops, and nearly 100 tempo-synced rhythmic pedals, and SD's endless well of hybrid orchestral content pushes cinematic sound into unprecedented territory.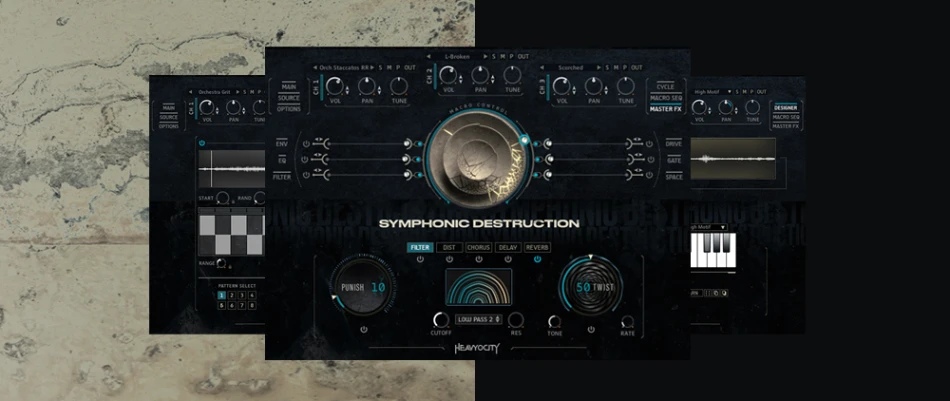 Thrilling traditional combinations, creative sound design, and some of the gnarliest Braams ever assembled – Symphonic Destruction unleashes a new generation of epic orchestral scoring. One thing's for sure, the orchestra will never be the same.
As a "powered-by-Kontakt" instrument, Symphonic Destruction offers all playback and sound-shaping functionality through the latest version of Kontakt 6 or the free Kontakt 6 Player.
What's included
Over 11,800 Samples
445 Sources (Full Content Breakdown)
210 Custom-Designed Presets
4 Unique Engines: SD Designer, Braam Designer, Loop Designer & Performers